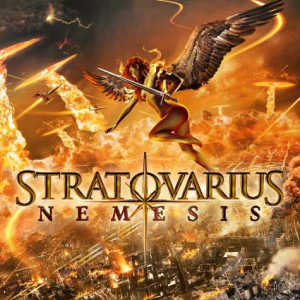 Nemesis est le 14eme album du groupe Stratovarius, qui sort le 22 fevrier 2013, et ayant pour label Edel AG.
Au programme, 11 pistes avec une guest star, j'ai nommé Jani Liimatainen (un ancien guitariste de Sonata Arctica) qui a également écrit deux chansons « If the Story is Over » et « Out of the Fog ».
La version limitée vinyle contient 3 pistes bonus.
Liste des pistes :
1.
« Abandon »
Matias Kupiainen
2.
« Unbreakable »
Kupiainen
3.
« Stand My Ground »
Kupiainen
4.
« Halcyon Days »
Kupiainen
5.
« Fantasy »
Lauri Porra
6.
« Out of the Fog »
Kupiainen, Timo Kotipelto, Jani Liimatainen
7.
« Castles in the Air »
Jens Johansson
8.
« Dragons »
Johansson
9.
« One Must Fall »
Kupiainen
10.
« If the Story Is Over »
Liimatainen, Kotipelto
11.
« Nemesis »
Kupiainen
Vous pouvez acheter l'album Nemesis à bas prix ici :